The Patron: Saint Francis de Sales
21 agosto 1567 – 28 dicembre 1622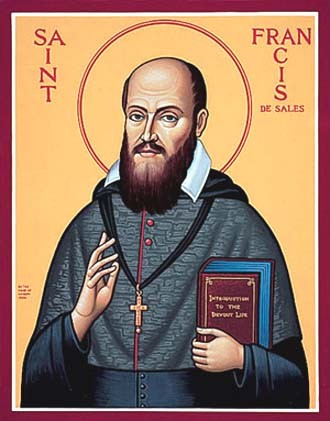 Francis was born in 1567 in the castle of Sales, diocese of Geneva, to Francis, Count of Sales, and Frances of Sionas.
From his earliest years he showed a marked inclination for goodness and great docility.
He did his first studies at Annecy, and from there was sent to Paris. Here he studied rhetoric, philosophy and theology with the Jesuit Fathers. His life was withdrawn: he attended church and the sacraments; from that time he made a vow of chastity.
Having completed his studies in Paris, his father sent him to Padua to study law. There Francis was exposed to great dangers, which he escaped happily with his strong will and the help of God in whom he always trusted.
Francis' father had thought of making his son one of the most esteemed gentlemen in society and had already obtained for him a distinguished position in the senate of Chambery, while he was preparing a rich party for him. Francis, however, was called to something else, and he disclosed everything to his tutor, instructing him to make his father aware of it. His parents opposed many obstacles, but seeing him firm in his purpose, they consented to the will of God.
When he was made a priest, the Bishop of Geneva entrusted him with the task of fighting the heresy of Calvin, which infested the whole of Chiablese. Many refused to listen to him, so Francis wrote leaflets and posters, with concise and precise instructions on the Catholic Faith, which he posted on the walls and ran under the doors of the houses, which remained closed to his knocking. Our Saint had to work and suffer a lot for those heretics, and he was in danger of being assassinated several times, but his great gentleness, united to a tireless zeal and an exemplary piety, won over the most obstinate Calvinists so much so that he converted, they say, 72 thousand. When Bishop Granier of Geneva died, Francis was elected to succeed him.
In 1610 he founded the order of the Sisters of the Visitation, together with St. Jeanne Frances de Chantal. When he felt that he no longer had the strength he once had and that his health was failing, he asked for help in governing the diocese. Although he was ill, he climbed the pulpit in Lyons for the last time on the eve of Holy Christmas 1622, but the next day he had to take to his bed, with obvious signs of progressive apoplexy. He immediately asked for the last Sacraments, then with seraphic fervor he repeated some passages of the Holy Scripture, until the illness took away his speech and life, on the evening of December 28. He was not yet 56 years old, 20 of which were spent in the episcopate.
He is famous for his incomparable sweetness, he wrote two important works: the Filotea or Introduction to the devout life and the Teotimo or Treatise on the love of God. Two works of very high spirituality and at the same time very concrete and affordable to anyone who wanted to live deeply the Christian life in everyday life.
He is invoked as the patron saint of journalists and deaf-mutes.
Co-patron: Saint Jane Frances de Chantal
January 23, 1572 - December 13, 1641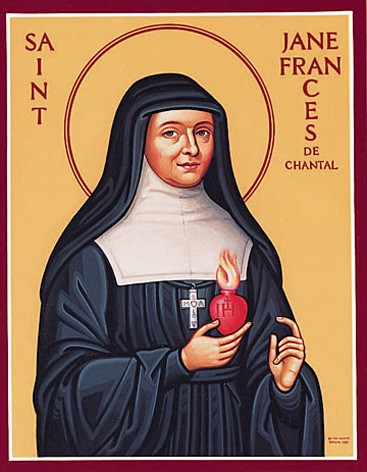 In the history of the Church we find some cases in which men and women have acted together in the path of holiness, such as Francis and Clare, Elzeario of Sabran and Delfina of Glandève, Teresa of Avila and John of the Cross, Benedict and Scholastica, Louis and Zelia Martin (parents of St. Therese of Lisieux), Julia and Carlo Tancredi of Barolo, the Beltrame couple. Another surprising "couple" was St. Francis de Sales and Joan Frances Frémyot de Chantal. It was in fact thanks to the meeting with the Bishop of Geneva that Joan defined her path to sanctity.
The French call her sainte Chantal and venerate her in Annecy, where she rests next to Saint Francis de Sales.
She was born in Dijon on January 23, 1572 into a family of the Burgundian nobility. Her father was Benigno Frémyot, second president of the Parliament. She was soon left motherless and grew up under her father's education and morals.
On December 29, 1592 Joan married Christopher II, Baron of Chantal. Their marriage was a happy one. She was immediately called "the perfect lady" for her efforts in the Bourbilly estate and for the attentions and cares she reserved for her husband. From this perfect union six children were born: the first two died at birth, then came Celso Benigno, Maria Amata, Francesca and Carlotta.
Sweet, serene, and affable, Giovanna was loved by her family and servants alike. When Cristoforo left the castle to fulfill his duties at court, Giovanna left her elegant clothes and devoted herself to the poor, to whom she offered not only money, but also her own person, serving them. Her charity became immense during the famine that struck Burgundy in the winter of 1600-1601. It is here that the Baroness, without listening to the mutterings of many and encouraged by her consort, transforms the manor into a real hospital to accommodate mothers and children in need and is responsible for the construction of a new oven to be able to distribute bread to all those who knock on his door. One day she is told that in the barn there is only one sack of rye left... and she, without hesitation, orders to continue the distribution of bread, as before... the rye will be finished at the new harvest.
But here comes the first great trial, the death of Christopher, killed by an arquebus during a hunt.
She is widowed at the age of 29, widow and mother of four children, the first of whom is only five years old and the last a few days old. During this time of mourning and pain, she matured the desire to consecrate herself to Christ, but family duties did not allow her to make such a drastic life choice. While waiting to know God's will, Joan devoted herself entirely to her children, the administration of the house and prayer.
Her father-in-law, Baron de Chantal, informed her that she had to move to Monthélon immediately if she wanted her children to share in the inheritance, and she accepted, even though she knew that a "servant mistress" was in charge of the old baron's residence. For a long time she will have to put up with the anguish of the latter.
Her name begins to become known for her charity. She is no longer called the "perfect lady", but "our good lady".
Another difficult trial she must now face: her spiritual guide does not understand her person, he cannot read her soul. One day her father invited her to Dijon, this time to listen to the Lenten sermon of the Bishop of Geneva, Francis de Sales, whose fame was spreading more and more in Savoy and throughout France. The first meeting between Joan and the bishop took place on March 5, 1604. From then on, an extraordinary path of fraternal and spiritual union was established. The spiritual direction of Francis de Sales is realized above all through the epistolary, where the human is "divinized" and the divine "humanized".
In a letter sent to the bishop of Geneva, Jeanne writes: "... all that is created down here is nothing to me compared to my dear Father... One day you commanded me to detach myself and to strip myself of everything. Oh God, how easy it is to leave what is around us, but to leave one's own skin, one's own flesh, one's own bones and to penetrate into the depths of the marrow, which is, it seems to me, what we have done is a great thing, difficult and impossible if not to the grace of God".
In 1610 he signs in front of the notary an act with which he strips himself of all his goods in favor of his children. So she leaves her family and leaves for Annecy and on June 6, together with two companions, Giacomina Favre and Giovanna Carlotta de Bréchard, she enters the small and humble "house of the Gallery", cradle of the Order of the Visitation.
She will always remain a "mother", continuing to love her children deeply and tenderly. New deaths, new mourning... so much so that only her daughter Francesca will survive among her sons, brothers, sons-in-law and daughter-in-law. Therefore, God became her only quest, the only goal of her current life. When Francis de Sales died (December 28, 1622), Jeanne found herself alone at the head of the new religious family of the Visitation. She became a pilgrim on the roads of France, founding 87 Visitation houses. Consumed "in the love of her work and in the work of love", as she used to say, she died on December 13, 1641 in the monastery of Moulins.
The "Letters of Friendship and Direction" (translated for the first time into Italian by the Visitation Monasteries of Italy) are the most vivid testimony of Mother Chantal's great spirituality and proof that she was too intelligent and "free" a person to be reduced to an anonymous shadow of Saint Francis de Sales.
(From Saints and Blessed, Author: Cristina Siccardi)