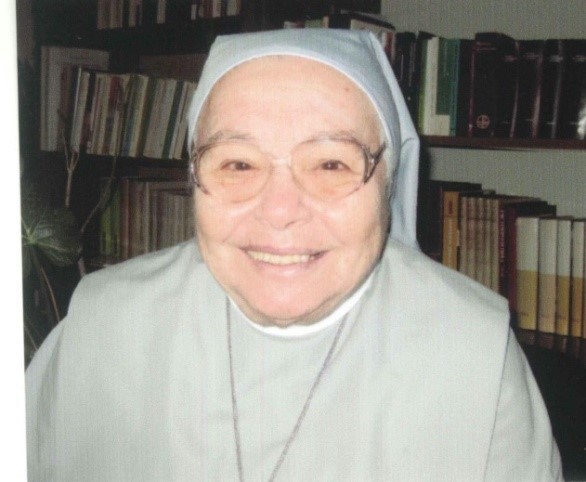 In the early hours of Wednesday morning, 18 August, our dear Sr. Carla, who had just turned 97, silently, as if on tiptoe has gone to the Father's house.
Sr. Carla, alias Palmina Guarniero, was born on 15 April, 1924 in Barbona, Italy into a beautiful Christian family with many children: five boys, two of whom became priests, and three girls.
Then the family moved from the province of Padua to the province of Ravenna, in Conselice.
          After finishing the Secondary school in Conselice, Sr. Carla joined in our Institute of Primary School Teachers Training in Lugo where she obtained her diploma in teaching.
    During her school years she discovered her religious vocation and in September 1945 she entered our Congregation in Lugo as a postulant, where she made her first religious profession on 4 September, 1948, and after three years her Perpetual Profession in 1951.
She began her experience as a teacher in our primary school in La Spezia. In 1959 she was transferred to the school in Ameglia  and in 1964 to the one in Rome where she remained until her return to the Motherhouse in Lugo in 2008.
Sr. Carla was an exceptional teacher, always didactically up to date! Her vocation for teaching grew hand in hand with her religious vocation, and until the last years of her life, when she was confined in the infirmary, she continued to write numbers and make posters which she gave to some teachers to share the pedagogical and professional wealth she had acquired over the years.
She was a gifted painter, a dancer and a crafts maker out of any material at hand, be it cardboard, plastic or fabric. She knitted beautiful flowers, and for the gymnastic recitals organized at the school, she painted beautiful skirts for the girls and T-shirts for the boys.
She was skilled in teaching the various literary subjects, and her pupils were all very well prepared for their fifth grade exams, writing very high-content and grammatically correct essays. Her greatest strength, however, was mathematics, and she had her own method to teach her pupils to do mental arithmetic with amazing rapidity.
During my first years of teaching, when after the novitiate I was sent to the community in Rome, Sr. Carla helped me so much to enter the school environment and to acquire a teaching method, and for this I have been always grateful.
Naturally, like all of us, she had some very good qualities but also some major weaknesses, first and foremost the great disorder and confusion that pervaded  in  the class rooms she occupied and in which she worked calmly. When she so naturally sent one of her pupils to another class to borrow scissors or something else, we were all sure that they would never come back! However, she was always willing to help us and we sure of losing some items.
Though, Sr. Carla was so   active, creative and gifted, she found it very hard to relate with others. At times her relationships in the community were rather strained and that, on account of her personality the serenity of the community was rather disturbed. She was quite aware of this and tried to improve and start again, but always she had to struggle to use positively her resourcefulness and autonomy.
It cost her a lot to leave the school and eventually Rome, but slowly, slowly, she found stability even in the Mother House without ever losing her desire to be active and to organize herself independently.
Sr. Carla spent the last years of her life in the infirmary and even there her spacious room had become a somewhat chaotic laboratory, but where she was quite comfortable.
At the beginning of last August, she received the Anointing of the sick, then, she who was noisy and restless, peacefully and silently went to meet Christ whom she had loved and served throughout her long life, and died at four o'clock in the morning on 18 August.
Let us pray for Sr. Carla, she who, with her fervid imagination, saw angels even in the shapes of clouds, now that she sees them directly, will surely pray for us, for the whole Congregation that loved and cared for her, and for all her students, many of whom still remember her to this day.
Mother Mariarita Foli