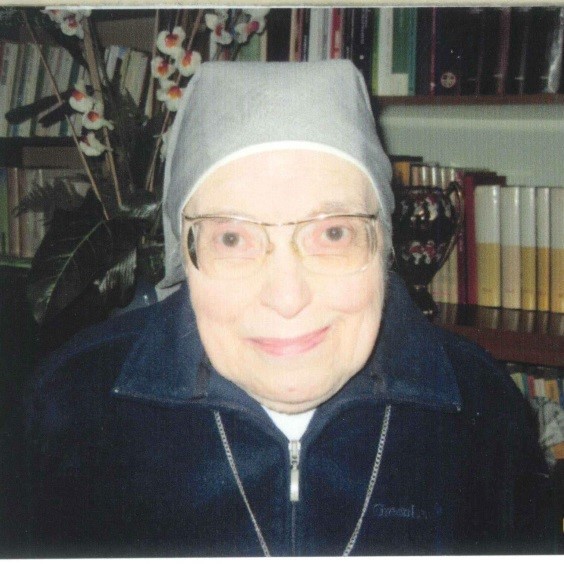 On 28 December, at 4.45am, Sr. Magdala passed away. She met death calmly, serenely, as she had expected with the certainty that it would open the door to her encounter with Christ.
Sr. Magdala, born at La Spezia on 26 November 1924, entered the Congregation in 1960, after a long working experience.  In fact, after completing her schooling, she did the Teacher's Training Course, and immediately she started to work to help her family. In the difficult post-war years she adapted to various jobs, and for a few years she was even in Switzerland working in a pasta factory. When she talked about it, she told us that at that time Italians were considered undesirable emigrants and in some of the high-class shops and restaurants there was a sign on the door saying: 'Italians and dogs are not allowed'. It tells us that this period must not have been easy for her, yet as in her typical style, she described it with great simplicity and with a touch of irony. During those years of intense work, the desire to consecrate herself to the Lord matured within her. She made this decision on 5 June 1960.
For a young lady used to be free and independent, the rather rigid and meticulous rule of the novitiate at that time must have been quite a challenging experience, but she faced it consciously, trying to reconcile her autonomy with the submission required of her. Her somewhat awkward behaviour in the community life was often a source of jokes and fun, in which she herself took part with ease and enjoyment.
On 03 March 1963, she made her First Religious Profession and the Perpetual Profession on 14 August 1968. Sr. Magdala was always an enthusiastic reader, and continued to be so until the last years of her life, till her advanced age and failing eyesight prevented her from reading any further.
She suffered from a serious 'phobia' towards chicken, both alive and cooked. In the community, she had some difficulties before she was able to get people understand and accept this problem and not only to eat chicken, but also to see or touch it.
The first years of Sr. Magdala's religious life were spent in the community in Rome, teaching in the primary school, and at the same time she began her university studies and obtained a degree in pedagogy.
The experience in Rome was a bit failure for Sr. Magdala as she was not very suitable to deal with primary school children: in her class the students actually performed well, but there was a lot of chaos! This made the Superiors decide to transfer her to Lugo, where she began teaching history of philosophy and pedagogy, first in the school for the Teacher's Training, in the Senior High School and then in the Degree College from 1970 until 2000.
Here in Lugo Sr. Magdala gave herself wholeheartedly with passion and competence, managing to establish constructive educational and human relationships with the students; relationships that often continued beyond the school years and some until the last years of her life. One of the her students  Daniele Callini, wrote about her in his book titled, "44 Steps": "I enrolled at the Teacher's Training, a private school run by sisters ... I met the headmistress ( Sr. Concetta Ricci) a nun with an authoritative yet maternal smile. And above all I met Sr. Magdala, the philosophy teacher. I didn't even know what philosophy was, but that meeting soon proved decisive for the formation and development of my identity".
In the year 2000, when Sr. Magdala  had to give up teaching due to her age, she casually and generously took on the job of caretaker at the primary school. In her free time, she would draw and build dragons and princesses for the children, using fabric and coloured cardboard - all recycled material. Many of the pupils from that time have preserved them to this day!
Sr. Magdala's religious vocation, although late, was an authentic one, lived with simplicity and depth, with ever new and generous commitment and with constant serenity that derived from her relationship with the Lord; simple, alive and genuine. It was also the commitment of a life that was not easy, filled with sacrifice, but faced positively, which made her rich in humanness and in the joy of living: a great gift for our community. In fact, she knew how to laugh at herself, she allowed herself to be made fun of, and indeed she enjoyed it and offered herself the opportunity to do so. A phrase from St. Augustine was dear to her and expressed her character well: "Blessed are you if you know how to laugh at yourself, for you will always have something to laugh about".
Now our dear Sr. Magdala has reached her true destination ... always a little distracted, who knows even in the house of the Father she may crack joyful jokes with the little angels who live there! Certainly her memory is and will remain alive, especially in the Mother House, and she will definitely pray for us and for our beloved Congregation.
Mother Mariarita Foli