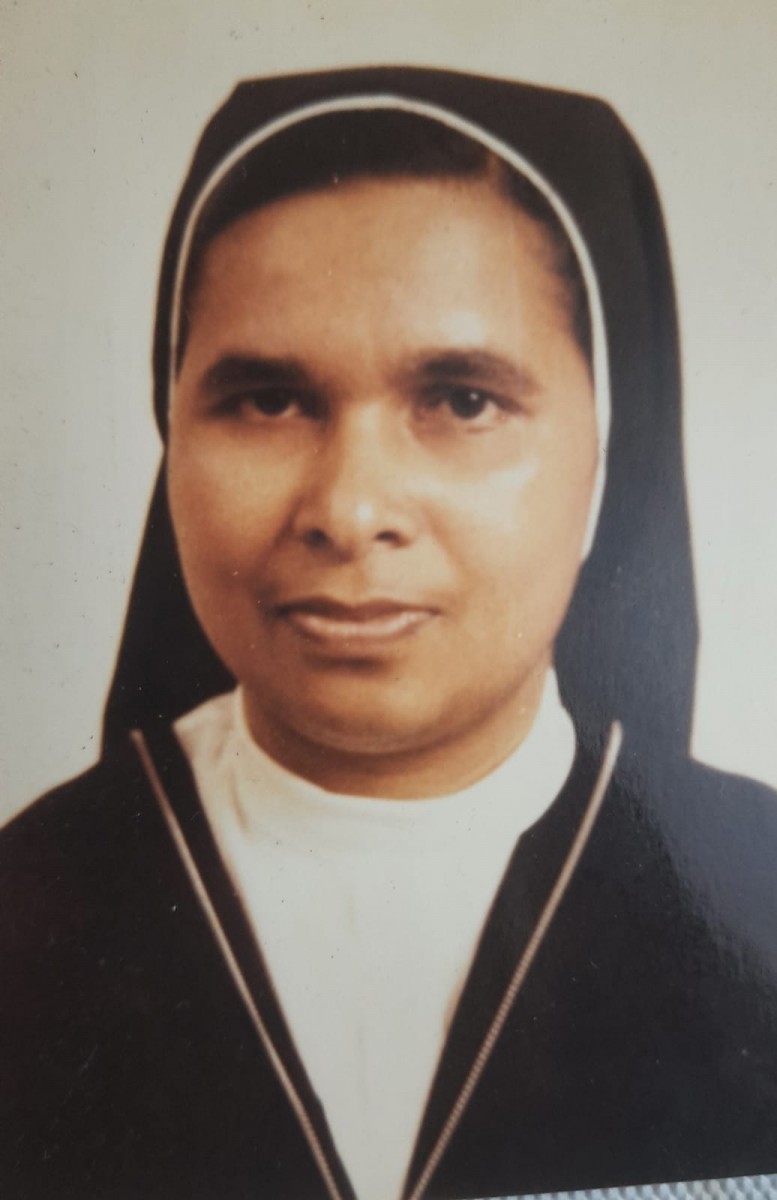 Our dearest Sr. Mary Thazhappil left us to go to the house of the Father on Sunday, 27 February, 2022. For years Sr. Mary had been on a wheelchair due to several "hernias" that incapacitated her to stand on her own legs and to walk. In addition, she had diabetes and other ailments, that did not prevent her from being sufficiently autonomous in taking care of herself, thanks to her determination, On Sunday morning a few minutes before six o'clock, the nurse in charge of the night shift went to see if she was all right because two days earlier she had had a slight fever. Sr. Mary was awake and when asked if she would like some coffee, she replied positively. The nurse then left to prepare the coffee and when she came back, about ten minutes later, Sister Mary was dead! Her face was relaxed, serene, as if she were asleep, and in her hands she held the rosary.
Sr. Mary was born in Kottangal, India, on 20 November 1948, the second daughter of a family of six children: three boys and three girls. She would have liked to enter the Congregation with the first group of Indian sisters, but for family reasons it was not possible. This did not discourage her and in November 1975, all alone, she came to Italy to realize her vocation to religious life in our Congregation. On 24 January 1977, the feast day of St. Francis de Sales, she entered the novitiate and two years later, on 24 January 1979, she made her temporary profession. Her perpetual profession was on 16 September 1984.
During her juniorate period, Sr. Mary completed her diploma as a professional nurse and was immediately sent to work in the hospital of Conselice, where she remained from 18 August 1983 to 17 February 1985. She was then transferred to the Domus Nova nursing home in Ravenna, where she remained for 10 years. Later when, at the end of 1995, our Sisters left the service at "Domus Nova" definitively, Sr. Mary was sent to serve in the nursing home of Sarsina. She remained there until 2005, when she was transferred to the infirmary of the Mother House, first as a nurse, then, when her health did not permit to continue her job anymore, she remained  there as a patient.
Sr. Mary was a woman of prayer. She had a rather rough way of speaking, but her heart was good and affectionate. She was a shy person, not very prone to joking, but in her work she was prompt, generous and gentle. She was willing to listen and to serve and this is also proven by the fact that, after so many years, someone who had known her at the "Domus Nova"  kept in touch with her still recently.
She accepted her illness with difficulty but offered it with willingness and serenity. She devoted her time to prayer, reading the Bible and listening to homilies or lectures. Let us pray for Sr. Mary and it is nice to think that now, that she can finally walk freely and joyfully in the Father's house, she will surely remember her community and especially the sisters who cared for her, because she truly loved the Congregation, and now from heaven she will intercede for all of us.
Mother Mariarita Foli